With a dramatic new European design and updated features, this Rowenta Pro Master iron is the newest generation of professional irons.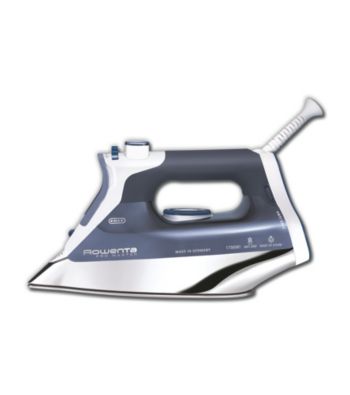 For Sale price, add to bag
Experience excellent results with this Rowenta iron. Microsteam stainless steel soleplate features a precision tip for advanced steam distribution and professional results. Variable steam and burst of steam performance simply melt wrinkles away. Vertical steam feature allows you to steam hanging garments and window treatments.
1700 watts of power
3-way auto shut-off after eight minutes of vertical sitting; 30 seconds of horizontal sitting
Handle is fully covered to provide a soft, comfortable, non-slip grip
Ergonomic controls
Anti-slip frame for stability while iron is resting on its heel
Anti-drip system prevents spitting and leaking at low temperature settings
12.7-oz. capacity extra large water tank, plus covered filling inlet to prevent spilling of water
Self-cleaning function removes loose mineral deposits and flushes out impurities
Model number DW8080003
Imported
More