Newborn size 0-6 month sleeper comes with a cradle-soft "surgical cap" and toes stay warm inside the mock hospital booties.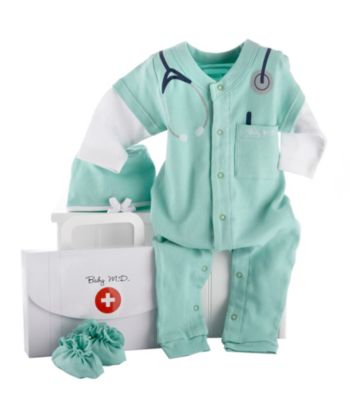 Calling all newborn medical professionals, STAT! Baby Aspen introduces Baby MD, a whimsically-cozy doctor's outfit for your own aspiring MD. Complete with a toasty warm surgical cap and "hospital booties", this soft, green sleeper sports a stethoscope graphic casually slung around the neck, and an embroidered pocket with pen to write those teeny tiny prescriptions!
Made of 100% lusciously soft cotton in soft sea-foam green and white
Legs have secure snap closure for easy changes between "operations"
Fully opened, the exclusive packaging design creates its own unique showcase!
Cleverly designed "first aid" box unfolds to display product hanging from a sturdy, custom-designed hanger
Folded up, the box creates its own gift wrap suitcase!
Box measures 9 ¼"w x 6"t x 2" d folded, opening to a display size of 9 1/4"w x 15" t x 2" d with sturdy custom hanger.
More