This adorable Baby Aspen "Pig in a Blanket" 2-piece Gift Set in Gift Box includes a plush pig, blanket all wrapped in a ribbon and bow within a lovely gift box.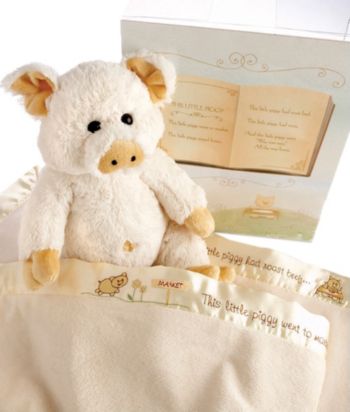 Once again Baby Aspen has cornered the market on "cute and cuddly" with an extraordinary two-piece gift set starring that market-going piggy of nursery-rhyme fame! This little piggy is more than happy to make a stop at your favorite newborn's nursery for some ever-welcome snuggle time. Our cream-colored, 14" tall, plush piggy has tan feet, with tan ears and a tan nose on a friendly face.
Piggy arrives wrapped in a blanket for baby, who's gently surrounded by the classic nursery rhyme embroidered along the 31" x 40" blanket's cream-colored satin trim.
Just as extraordinary and enchanting as the pig-in-a-blanket is the captivating display gift box
Around piggy and blanket is a chocolate-brown organza ribbon and bow, and they're comfortably nestled within artwork that depicts the rhyme "This Little Piggy," with five little piggies all around the box, doing what made each one famous
On the back is an open book with the complete nursery rhyme, ready to read!
Both the little piggy and blanket are 100% polyester, including appliqués
The gift box measures approximately 12" h x 10" w x 5 ¼" d.
More