Web exclusive! Achieve a deep, restful night's sleep on this memory foam mattress that molds to your body and eliminates uncomfortable pressure points and motion transfer common in innerspring mattresses.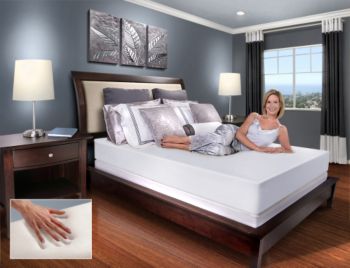 Original
:
$800.00 - $1,530.00
You'll enjoy better, sleep-filled nights with this foam mattress. The mattress has a ventilation airflow system built into the 3" core memory foam structure that offers unparalleled breathability. The open memory foam cell structure allows cool air to displace warm air, allowing you to wake up refreshed. The result is a bedding system that relieves pressure and offers customized comfort. Aloe vera treated mattress cover feels like cashmere. Mattress never needs turning and can be used with existing box spring or platform bed.
A note about your memory foam mattress: Comes vacuum sealed to 1/3 the size of the mattress and returns to 100% shape within approximately 24 to 48 hours. Please allow sufficient room for the bed to expand over the 24 to 48 hour time frame. Additionally, memory foam sealed in plastic traps odors. Air before using. Due to the personal nature of this item, the mattress cannot be returned if it has been opened and taken out of its plastic wrap.
Available in Twin, Full, Queen, King and California King sizes
Twin size: 38"H x 75"W x 10"D
Full size: 54"H x 75"W x 10"D
Queen size: 60"H x 80"W x 10"D
King size: 76"H x 80"W x 10"D
California King size: 72"H x 84"W x 10"D
2.5" Cool Wave memory foam top layer with airflow ducts
4-lbs. density is perfect for side sleepers
4.5" high-density supportive foam base
Resists dust mites and is naturally antimicrobial
Meets all flammability standards
Washable mattress cover is moisture-resistant
Imported
More