Web exclusive! Achieve a deeper, more restful night's sleep on this memory foam mattress that molds to your body and eliminates motion transfer common in most innerspring mattresses.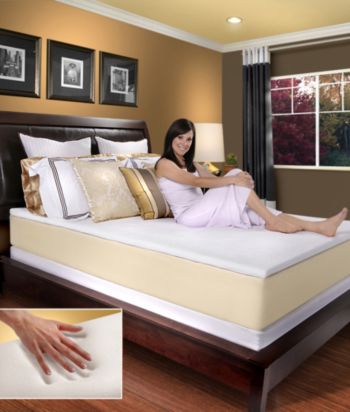 Enjoy better, sleep-filled nights with this foam mattress. Mattress features patented, USA-made Sleep Zone Sleep System that eliminates impurities and is the most environmentally-friendly foaming process available. Next generation memory foam and energy-absorbing Intellifoam relieve pressure by easily molding to your body for customized comfort.
Please note: Mattress comes vacuum sealed to 1/3 the size and returns to 100% shape within approximately 24 hours. Please allow sufficient room for the bed to expand over the 24 hour time frame. Additionally, memory foam sealed in plastic traps odors. Air before using. Due to the personal nature of this item, the mattress cannot be returned if it has been opened and taken out of its plastic wrap.
Twin: 38"H x 75"W x 10"D
Full: 54"H x 75"W x 10"D
Queen: 60"H x 80"W x 10"D
King: 76"H x 80"W x 10"D
California King: 72"H x 84"W x 10"D
Mattress quilt & comfort layers:
Removable mattress cover is moisture-resistant and zips off for easy cleaning
2.5" advanced visco-elastic memory foam with airflow ventilation
Ventilating air ducts create unparalleled softness while maintaining balanced support
Eliminates back and joint pain associated with most common innerspring mattresses
Resists dust mites and is naturally antimicrobial
Support layer:
7.5" high-density polyurethane foam base that bears enough support without sacrificing softness
Never needs turning
For use with existing box spring or platform bed
Meets all flammability standards
Imported
More