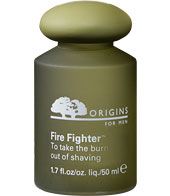 Purchase $65 In Origins Products & Choose Your Free Mask!
Douses the flaming feeling fast. Leaves skin cool and calm. 1.7-oz. Limit 1 order per day.

All too often, the perfect shave can bring razor blades too close for comfort. Even the toughest skin feels on fire, hurts like heck. Nature's rescue-unit, including soothing Chamomile, Cucumber and Winterbloom, douse the "flaming-feeling" fast to help leave razor-scraped skin cool, calm and totally comfortable again. There's no stinging, no smarting, no ouching. But there is an added boost. Refreshing Eucalyptus and tingly Peppermint rev your engines to give you a burst of get-up-and-go.
How to use:
Dash into palm and smooth over skin right after shaving.
More