Slip on one of the most indulgent hand cremes ever created. 3.4-oz.
Limit 1 order per day.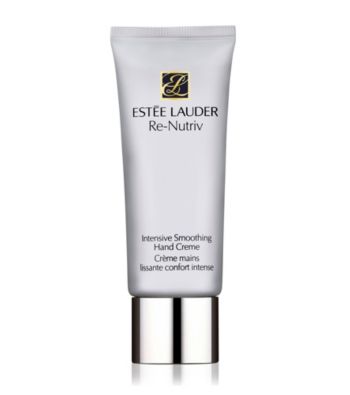 Purchase The Estee lauder Color Edit Gift For $59.50 With Any Estee Lauder Purchase!
Formulated with precious moisturizing ingredients and our advanced anti-spot technology, this sumptuous creme deeply hydrates as it helps reduce the look of dark spots. Visibly smooths away crepiness. Hands look younger and more supple. Skin remains soft and moisturized, even after multiple washings.
How to Use Intensive Smoothing Hand Creme:
Apply as needed.
Re-Nutriv Targeted Treatments: Feel the luxury, reinforce the results. To get the most out of your Re-Nutriv skincare, enhance your daily skincare ritual with the Re-Nutriv Targeted Treatments right for you. Morning and evening, every regimen should start with gentle cleansing and toning. Then apply your serum, face creme and eye creme formulas. Next, complete your skincare with the Targeted Treatments custom-selected for your skin's individual needs. These may change day to day, or season to season. Whatever your needs, these extraordinary Re-Nutriv formulas deliver advanced benefits wrapped in amazing luxury.
Works well with:
More