Indulge your body and your senses in this extravagantly rich, ultra-luxurious creme. 10.0-oz.
Limit 1 order per day.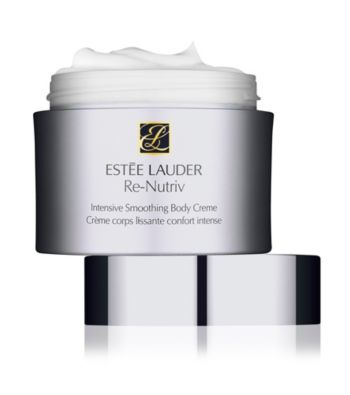 Purchase The Estee lauder Color Edit Gift For $59.50 With Any Estee Lauder Purchase!
Deeply hydrating, it smooths away dry, flaky skin. Reveals a new, soft, silky texture. Helps restore a younger, firmer, more supple look. Leaves skin moisturized and comfortable throughout the day.
How to Use Intensive Smoothing Body Creme:
Smooth over body daily, or as needed.
Re-Nutriv Targeted Treatments: Feel the luxury, reinforce the results. To get the most out of your Re-Nutriv skincare, enhance your daily skincare ritual with the Re-Nutriv Targeted Treatments right for you. Morning and evening, every regimen should start with gentle cleansing and toning. Then apply your serum, face creme and eye creme formulas. Next, complete your skincare with the Targeted Treatments custom-selected for your skin's individual needs. These may change day to day, or season to season. Whatever your needs, these extraordinary Re-Nutriv formulas deliver advanced benefits wrapped in amazing luxury.
Works well with:
More