Does your skin need special handling? An extra measure of rich, gentle care? Is your skin especially dry or delicate? Then discover Re-Nutriv, the science of gentle, effective skincare. Limit 1 order per day.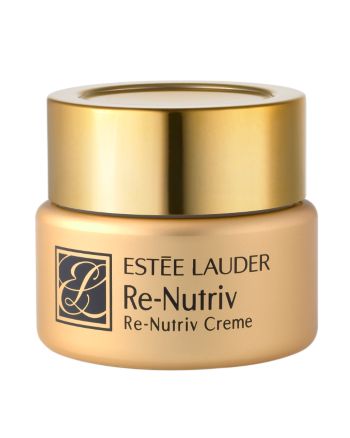 Deeply luxurious, unquestionably effective, everything Re-Nutriv pampers skin. Experience the nurturing. And the difference.
Re-Nutriv Creme, the richest of the Re-Nutriv moisturizers, is wonderfully emollient. Provides intensive moisture care. It's a superb overnight creme — wake up to skin that feels remarkably softer, smoother, more supple.
How to Use Re-Nutriv Creme:
Smooth over face morning and night after cleansing and after applying your anti-aging/repair formula as desired.
The Re-Nutriv Collection:
The original luxury skincare created by Mrs. Estée Lauder herself, Re-Nutriv continues to be loved by women around the world. Extraordinarily rich, uniquely firming formulas are so gentle, so indulgent we think of it as dry skin's richest resource. With Re-Nutriv, your skin is treated to a luxurious hydrating environment, completely responsive to the needs of dry skin.
Works Well With:
Re-Nutriv Revitalizing Comfort Eye Creme
Re-Nutriv Intensive Softening Lotion
More