Web exclusive! This is must have luggage for any traveler.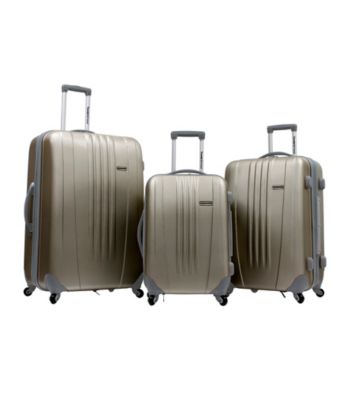 Buy a select luggage item, get one free!
Get more select luggage items when you buy one at regular price!
The Traveler's Choice® Toronto Spinner Luggage Collection offers a classy way to carry your important items on your next trip. Constructed of ABS hard shell with a scratch resistant finish, this luggage flexes to absorb impact and then afterwards flexes back to its original shape. It keeps your items safely stored and organized under any conditions so you can relax when you arrive at your destination.
Featured in gold
Each piece sold separately
21" Expandable Hard-shell Spinner: 21"H x 14"W x 10"D (6.7 lbs)
25" Expandable Hard-shell Spinner: 25"H x 17"W x 11"D (8.5 lbs)
29" Expandable Hard-shell Spinner: 29"H x 19"W x 12.5"D (10.8 lbs)
Scratch resistant surface
Telescopic handle system with push button locking
Four wheel spinner system
Fully lined interior with a multi-use organizational pocket
Elastic tie-down straps
Expandable for up to 25% additional packing capacity
Reinforced top and side carry handles
Riveted hinge
ABS
Warranty: 6 Years
Imported
More