Web exclusive! This hair dryer is ideal for guest bathrooms or smaller spaces.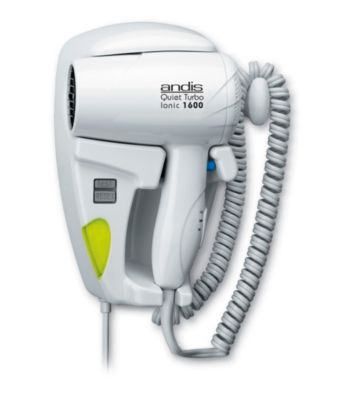 Purchase Beauty & Fragrance Products Then CHOOSE Your Free Samples!
Purchase $75 In Beauty & Fragrance Products, CHOOSE Your 3 Free Deluxe Samples In Your Shopping Bag!
If you have limited counter top space in your bathroom, the Andis Hang Up Hair Dryer HD-10L is perfect for your home. It can be mounted on the wall and has an LED light for night time visibility. The handy hanger loop lifts the cord off the counter top and floor, and the quiet, long-life motor provides 1600- watts of drying power. The 3-position switch with 2-heat/air settings offers plenty of drying options and the lifeline shock protection built into the unit will give you peace of mind.
1600W
Long-lasting electronic light - no bulbs to burn out or replace
Metal mounting plate for secure wall attachment
Hanger loop lifts cord off counter top and floor
ADA compliant when mounted below 48"
3-position switch with 2-heat/air settings
Built-in Lifeline shock protection
Imported
More