Web exclusive! Carolina Pet Company strives to create unique, high-quality bedding for your dog or cat because that's their passion, just as they understand that your furry family member is your passion.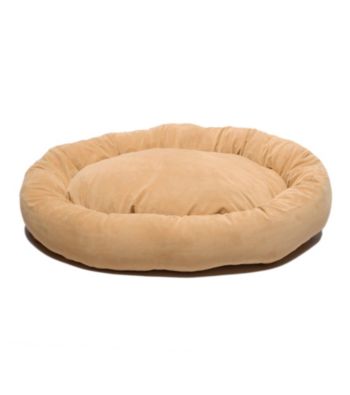 Original
:
$110.00 - $160.00
For a comfortable and stylish dog bed, choose one of these Carolina Pet Company beds. Because knowing that only the best will do for your dog or cat, these detailed, quality beds also fit with your home's décor, so your pet is sure to find rest. To make each bed even better, Carolina Pet Company offers eco-friendly options for a better planet.
Beds go green by:
Using a high loft, 100% recycled fiber fill to prevent landfill waste. In fact, 1-lbs. of the fill diverts seven plastic bottles from going to landfills!
Supporting suppliers certified in sustainable practices that support forest preservation for the future.
Replacing harmful CFC chemicals in foams with natural soy, eliminating the company's environmental footprint and reducing energy.
Recycling unusable materials from manufacturing.
More about your dog's bed:
Featured in caramel
Wide surface creates a place to stretch out and relax, plus provides extra padding and comfort
Thick bed keeps pets warm and off cold floors, all while maintaining its loft for supportive comfort and relieving pressure on hips and joints
360° of velvety microfiber cover and reversible cushion provide ultra luxury
High loft polyester fill
Note: A pet not used to a bed may need a few weeks to get used to the fabric's texture and shifting of the fill.
Removable cover is machine washable for long-lasting beauty
To ensure years of use, wash your dog's bed at least once a month according to the label.
Choose from four sizes: 4"H x 22"W x 18"D, 4"H x 36"W x 27"D, 5"H x 42"W x 32"D or 6"H x 54"W x 41"D
Cover is imported; fill made in the USA
More