Web exclusive! Keep those nasty bed bugs out of your clothes with this handy garment bag liner that wards 100% against bed bugs.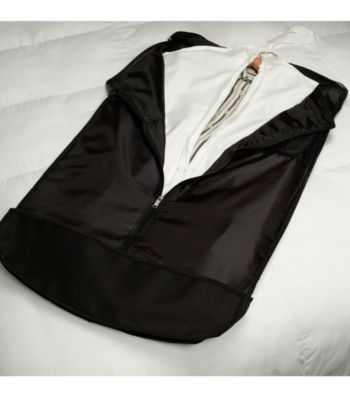 Buy a select home textile item, get one free!
Get more select home textiles when you buy one at regular price!
Travel in confidence! Go on vacation without worrying whether or not those creepy bed bugs will sneak into your luggage thanks to this must-have garment bag liner. SecureSleep and SecureTravel products are known for their durability and comfort, plus feature special Zip Tech™ technology. Each Zip Tech zipper is constructed so that even the smallest bed bug cannot get through to your clothing — offering you total peace of mind.
Ideal for keeping bed bug populations out of your home after hotel stays with possible infestations
Use on the road, on the airplane, in the hotel or dorm room
52"H x 25"W
Endorsed by the American Sleep Association and recommended by entomologists (bug specialists)
Breathable micro polyester
Machine wash warm. One or two additional cold rinses to remove any soap residue is recommended. Air or line dry. Do not bleach or dry clean.
Manufacturer's lifetime warranty
Imported
More