Web exclusive! Add cozy towels to your bathroom with one or all of these Pineland cotton towels.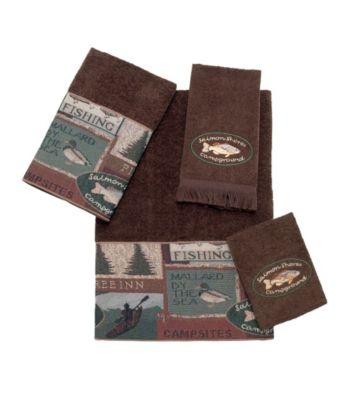 Buy a select towel, get one at half off the regular price!
Save on select towels when you buy one at regular price!
Each Avanti Pineland towel is a sheared velour fabric in updated mocha brown or light ivory. The woven jacquard border on each hand and bath towel is totally northwoods, decorated with "fishing," ducks, fish, trees and more classic camping icons. The fingertip towel and washcloth take the salmon icon from the larger towels and are embroidered with it, letting you know you're at "Salmon Shores Campground."
Featured in mocha brown
Choose from a bath towel, hand towel, fingertip towel or washcloth
Cotton
Machine wash and dry; do not bleach
Imported; finished in the USA
More