With a striking European design and comfortable thumb rest, this Rowenta Effective Comfort iron provides a wonderful balance of technology and unsurpassed ironing performance.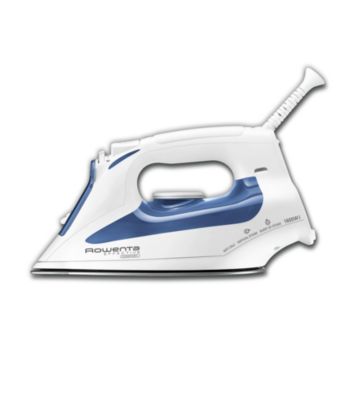 For Sale price, add to bag
Experience excellent results with this Rowenta iron. The microsteam stainless steel soleplate has a unique precision tip that provides spectacular ironing results even in the hardest-to-reach areas. Plus, variable steam and burst of steam performance simply melt wrinkles away, and the vertical steam feature allows you to steam hanging garments and window treatments.
1600 watts of power
3-way auto shut-off after eight minutes of vertical sitting, 30 seconds of horizontal sitting or if tipped over
Highly-polished stainless steel soleplate glides easily over fabrics
Scratch-resistant soleplate has 300 microsteam holes for perfect steam distribution
Thumb rest gives you a comfortable, easier handle
Soft touch rear for stability while iron is resting on its heel
Large 8.45-oz. capacity water tank
Self-cleaning function flushes loose mineral deposits
Anti-scale system removes impurities for clean, long lasting steam
6"H x 11"W x 4.75"D; 3.5-lbs.
Model number: DW2070
Imported
More