The future of trash cans is here! Water-resistant, infrared motion sensor detects motion within inches of sensor range so you don't have to open the lid.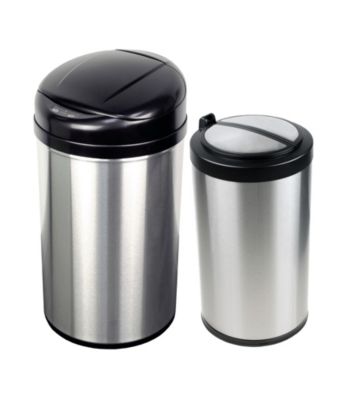 These 2-in-1 stainless steel touchless trash cans are designed and engineered by Nine Stars, the world's first legal patent holder. With one kitchen size and one bathroom size, you can use them almost any place you want, such as kitchen, office bathroom, dorm room or a kid's room.
These two trash cans use the most advanced sensor technology that can be found in all Nine Stars trash cans. As your hand or debris comes within ten inches and 130° angle of the infrared sensor, the lid automatically opens. The lid will remain open if debris or your hand remains within the range of the infrared sensor. Three seconds after your hand moves away from the lid, it closes automatically. Requires four D-size batteries (not included). Includes an inner plastic bucket easy cleaning.
Set includes a 10.6 gallon trash can and a 3 gallon trash can
Seals odor in and eliminates cross-contamination of germs with touch-free operation
Anti-fingerprint commercial grade stainless steel
Features a garbage bag ring to keeps the bag hidden from public view for a neat and clean appearance
Water-resistant infrared motion sensor detects motion within inches of sensor range
Energy-saving technology keeps battery life 20% longer
Requires four D-size batteries (not included)
Model: DZT-40-8
More