Web exclusive! Swaddle your baby in healthy, breathable comfort with any of these Natura World crib bedding pieces.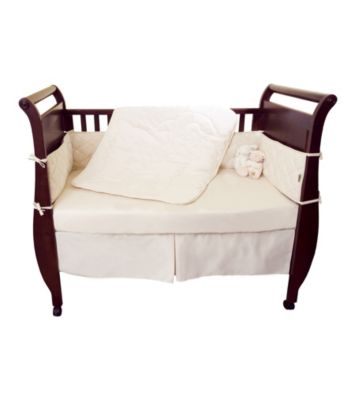 Original
:
$90.00 - $470.00
Natura World believes that using natural materials is the best solution for ourselves and our planet. By adopting sustainable, earth-friendly manufacturing practices and materials, Natural World is truly where nature meets nurture. It's not a trend — it's a way of life.
Surrounded by natural cotton and wool, your babe will be tucked in for a cozy night's rest. Comforter feature Natura Washable Cry Less Wool®, which insulates against temperature discomfort while keeping baby warm, plus discourages the growth of bacteria, mold and mildew. Both also have unbleached cotton covers. Velvety soft, all-natural cotton crib sheet offers a continuous elastic edge finishing. The cotton crib skirt adds an eco-chic retreat look to the nursery.
More