Broyhill® Vantana End Table
Dress up any room in classic country style with this beautiful end table.
Other items in this collection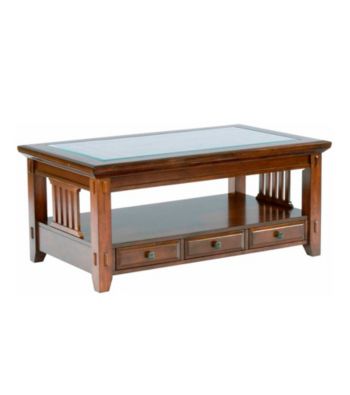 Enter ZIP code to confirm your address is located within our delivery area. If so, you may call with questions or to place an order. If your furniture order is placed online, we'll contact you to set up delivery.

Bring the feel and look of the country into your home with the Broyhill® Vantana End Table. Featuring smooth-gliding waxed drawers, a gorgeous lacquered finish, and a number of finishing details like slat sides and tapered legs, this piece will retain its luster and beauty over time making it a long-lasting treasure in any home.
24" x 28" x 25"
Features 1 drawer, 1 shelf and a glass insert
Finished drawer sides and bottoms
Lacquer-coated hardware
Multi-step finish beautifies and protects the wood surface
Smooth-gliding drawers using waxed, wood-on-wood drawer guides and internal stops
Hardwood solids and veneers
Imported
Shipping Information
Please note: Shipping surcharges may apply.
As part of the ordering process, you will be asked to enter your ZIP code to verify we deliver in your area. When your ZIP code has been verified a toll-free number will be made available for you to place an order and set up delivery. Alternatively, if you complete an order online, a customer service representative will contact you within three business days to set up delivery, review shipping charges, and cover any payment plans that may apply to your order.
60 Day, No Hassle Furniture Return Policy:
Within 60 Days after delivery, if you are not satisfied with your in-stock furniture purchase we will exchange the merchandise limited to one reselection or we will pick up the merchandise for full credit less delivery and warranty fees.
All refunds and returns will be processed by our corporate furniture customer service locations. Purchases made by charge will be processed the next business day and those by cash or check will be issued mail check refunds in 10 business days.
If you have any additional questions, please enter your zip code on the product detail page and call the toll free number that is displayed. You will be connected to a customer service representative that specializes in furniture.>