Hammary® Canyon Rectangular Cocktail Table
For casual, comfortable style in your family room, living room or even your rec room, look to the quality found in Hammary furniture.
Other items in this collection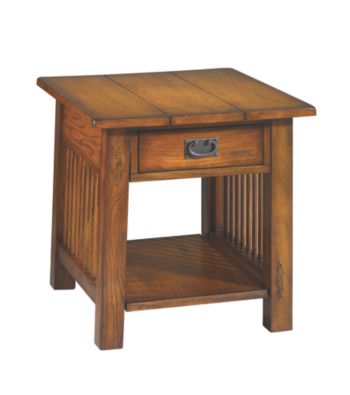 Enter ZIP code to confirm your address is located within our delivery area. If so, you may call with questions or to place an order. If your furniture order is placed online, we'll contact you to set up delivery.
Hammary found its roots from an entrepreneur in the 1940s who wanted to try his hand at making lawn chairs. Combining part of his name ("Ham" from "Hamilton" with "Mary," his wife's name), Hammary was born. Soon Hammary decided to devote its skills to quality investments, tables, and now offers pieces for all rooms in your home.
This Hammary Canyon rectangular cocktail table offers your living room a cozy, laid-back look. Designed in the Mission architectural style, function is also part of this table, with drawers that allow you to store remote controls and other items out of sight as needed.
Warm and slightly distressed Mission oak finish
Crafted of solid oak wood and veneers
Hammered bronze hardware complements the finish
Plank top and Mission styling give the table a unique appearance
Table offers multiple storage opportunities with three drawers and one bottom shelf
20"H x 50"W x 30"D
Manufacturer's 1-year limited warranty
Imported
Shipping Information
Please note: Shipping surcharges may apply.
As part of the ordering process, you will be asked to enter your ZIP code to verify we deliver in your area. When your ZIP code has been verified a toll-free number will be made available for you to place an order and set up delivery. Alternatively, if you complete an order online, a customer service representative will contact you within three business days to set up delivery, review shipping charges, and cover any payment plans that may apply to your order.
60 Day, No Hassle Furniture Return Policy:
Within 60 Days after delivery, if you are not satisfied with your in-stock furniture purchase we will exchange the merchandise limited to one reselection or we will pick up the merchandise for full credit less delivery and warranty fees.
All refunds and returns will be processed by our corporate furniture customer service locations. Purchases made by charge will be processed the next business day and those by cash or check will be issued mail check refunds in 10 business days.
If you have any additional questions, please enter your zip code on the product detail page and call the toll free number that is displayed. You will be connected to a customer service representative that specializes in furniture.>