Welcom Products Magna Cart® Ideal MCI Hand Truck
The most affordable hand truck. Opens with a touch of a button and is ideal for use at home, for groceries, luggage or at the office.
of (100%) customers would recommend this product to a friend.
Other items in this collection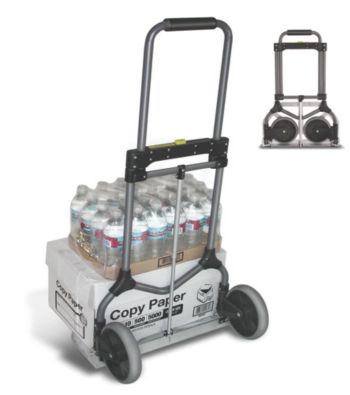 Takes seconds to open and close. No assembly required.
Extends to 39" tall
Compacts to 28" tall and 2.5" thick
15" wide steel base plate
Rugged 19mm steel (parallel tubes) frame
Weighs under 9-lbs.
Load capacity 150-lbs.
This item cannot be gift boxed.
This item should only be returned to the warehouse from which it was originally shipped.
Use the pre-addressed return shipping label attached to the packing slip included with your shipment. In the event that you have misplaced your packing slip, this product should be sent to the address below:
The Bon-Ton Stores, Inc.
ATTN: Returns
1340 Dayton-Yellow Springs Road
Fairborn, OH 45324
Additional information
Shipping & Delivery Details
Returning a purchase
Customer Service