Web exclusive! Redecorate your living room without compromising quality or replacing costly furniture: simply add a durable Sure Fit slipcover over current seating.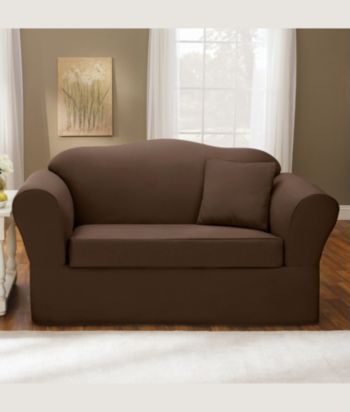 Original
:
$200.00 - $220.00
Sale: $100.00 - $110.00
With Sure Fit's universal seat cover, all you need to do is place all sofa or loveseat cushions in your one continuous cover, zip the cover closed, and enjoy your semi-custom new look! Durable twill slipcover stands up to use from kids and pets.
Slipcover tips & tricks:
To bulk up skinny arms or sagging cushions, wrap a layer or two of polyester batting around the arms or inside each cushion prior to covering
Before covering leather, lay non-skid rug pad material on arms and seats
Easily cover individual cushions by placing them inside a large plastic (garbage-type) bag, then slide into the cover; once inside cover, remove bag and zip cover closed
Use a long wooden spoon to tuck in excess fabric, or roll up a magazine and secure with a rubber band, inserting it deep into furniture's crevices (also works with a pool noodle)
About your slipcover:
Choose from a loveseat or sofa slipcover
Featured in Coffee brown. Also available in Flax tan, Loden green, Merlot red and Sapphire blue
100% cotton with Scotchgard™ protector
Machine wash cold, gentle cycle. Tumble dry low
To remove wrinkles, toss in dryer with damp towel on low heat for 10 minutes
Imported
More