Web exclusive! With your beloved furry friends in mind, Happy Hounds offers high-quality, safe, trendy and super durable pet beds for all types of hounds.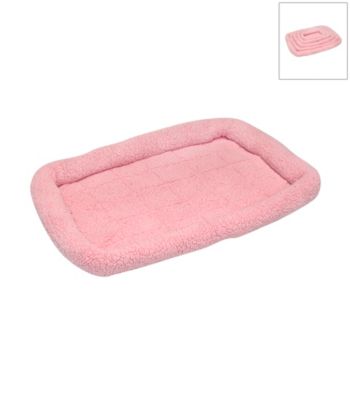 Original
:
$30.00 - $74.00
Sale: $15.00 - $37.00
Happy Hounds pet beds are made by pet-loving folks for pet-loving folks. Each bed is not only safe and stylish, but each dog bed is environmentally friendly and engineered to last. Not just for crates, this Cody crate pad is ideal for dogs who love to sprawl out or curl up to sleep.
Sherpa fabric is very cozy and luxuriously soft
Bolster walls give your pup security and are filled with 100% post-consumer recycled plastic bottles-turned poly fiber fill
Padded bottom is memory foam for added comfort
All Happy Hounds beds have durable, double-sewn seams for extra flexible strength and to help prevent doggie destruction
Each fabric edge is surged to prevent destructive fraying
Pet bed fabrics were even specially selected to withstand heavy usage. Each bed uses fabrics made for home furnishings and can withstand up to a 25,000 rub abrasion resistance.
Machine washable
Fits most crate sizes
Choose from five sizes: Extra small (2"H x 19"W x 13"D; 3-lbs.), small (2"H x 24"W x 19"D; 3-lbs.), medium (2"H x 30"W x 22"D; 4-lbs.), large (2"H x 36"W x 23"D; 6-lbs.) or extra large (2"H x 42"W x 28"D; 6-lbs.)
Manufacturer's 30-day defect-free warranty
Imported
More