Web exclusive! Bring a little piece of the tropics to your bathroom décor with the stunning Sebrina bathroom accessory set. Available in 4-piece and 6-piece sets.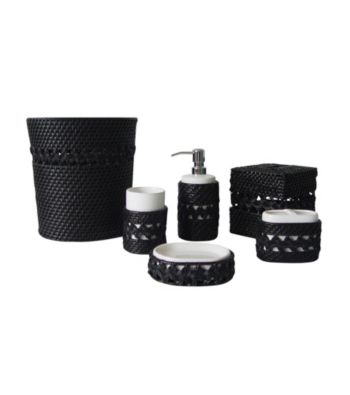 Buy a select bath accessory, get one at half off the regular price!
Save on select bath accessories when you buy one at regular price!
Inspired by the tranquility of a tropical paradise, all pieces of the 4-piece Sebrina bathroom accessory set are made from hand-woven rattan in a sumptuous dark espresso color. This wonderful design also features beautiful woven knots on the border. The 4-piece set includes:
Tumbler: 4.5"H x 3.25"W x 3.25"D
Toothbrush Holder: 3.75"H x 2.75"W x 4"D
Lotion Pump: 8"H x 3"W x 3"D
Soap Dish: 1.5"H x 5.25"W x 4"D
All items sold separately
Imported

The 6-piece set includes:
Tumbler (872431903010): 4.5"H x 3.25"W x 3.25"D
Toothbrush Holder (872431903034): 3.75"H x 2.75"W x 4"D
Lotion Pump (872431903041): 8"H x 3"W x 3"D
Soap Dish (872431903027): 1.5"H x 5.25"W x 4"D
Tissue Box Cover (872431903058): 6"H X 6"W X 6"D
Wastebasket (872431903065): 10"H X 7.25"W x 9.5"D
All items sold separately
Imported
More