Web exclusive! Dress your bathroom in the faux jewels and faux pearls the Famous Home Fashions Jewel bath accessory collection has to offer.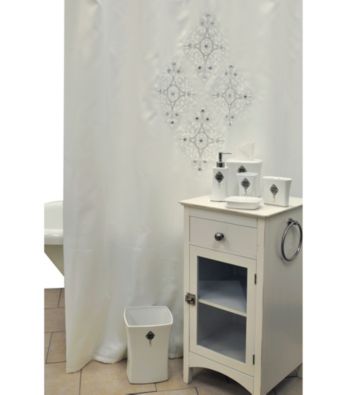 Buy a select bath accessory, get one at half off the regular price!
Save on select bath accessories when you buy one at regular price!
The Jewel bath collection features white pieces adorned with sparkling accents that will give your bath a sophisticated look. Each countertop piece has an elegant medallion that's finished by a hanging faux gold pearl. The beautiful cut-work on the shower curtain is not left unadorned; faux jewels are spread throughout the pattern.
Collection includes a shower curtain, 4-pc. boutique set (lotion pump, soap dish, toothbrush holder, tumbler), tissue cover and wastebasket
Countertop pieces: Ceramic. Shower curtain: Cotton.
Machine wash and dry shower curtain. Wash other pieces with a damp cloth.
Shower curtain: 70x72"
Tissue cover: 6.25"H x 5.75"W x 5.75"D
Wastebasket: 10"H x 8"W x 6.25"D
Imported
More