A rich, gentle replenishing cream cleanser that removes makeup and impurities and improves the skin barrier. 4.0-oz. Limit 1 order per day.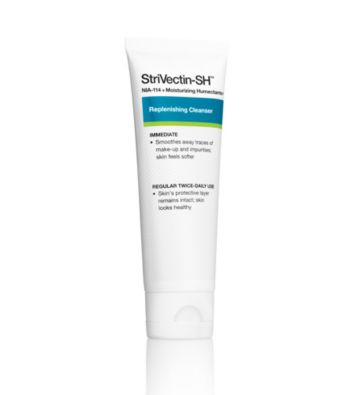 Purchase $89 Or More In StriVectin Products
Receive Your Free .35oz SD Advanced Intensive Concentrate Deluxe Sample!
New StriVectin-SH™ Replenishing Cleanser restores moisture levels and essential oils as quickly as it removes impurities. Our proprietary NIA-114™ preserves skin's protective barrier so your skin looks soft and healthy. Make-up disappears. Fresh skin reappears. Pollution, mascara and even red lipstick vanish immediately.
Key ingredients: NIA-114, Sodium Hyaluronate, Mineral Oil, Evening Primrose Oil, Shea Butter, Paraben-free. Non-Comedogenic.
More