Web exclusive! You won't be embarrassed to carry the diaper bag with this handsome tote over your shoulder.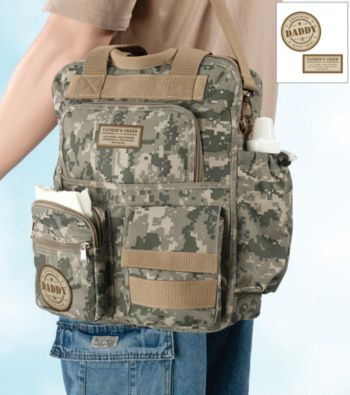 Buy a select frame, album or decor item, get one free!
Get more select frames, albums and decor when you buy one at regular price!
Be baby's hero by carrying all his or her essentials in this diaper bag that really looks more like a messenger bag. The modern camouflage-printed bag reads: "Father's Creed: I am a father. I have answered my child's call. I will not quit. I will not fail."
Lower pocket features a badge that proudly reads "Daddy: Always ready, Always there"
Zippered closure on all pockets
One side pocket holds baby bottle (not included)
Cotton/polyester
16"H x 12.5"W
Imported
More