Web exclusive! Enjoy all your favorite movies, music, photos and software anytime or anywhere with this slim and lightweight external DVD-ROM drive connected to your netbook.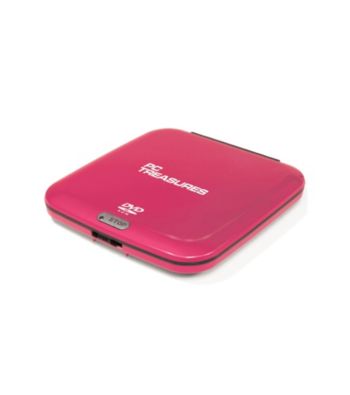 Original
:
$50.00
Sale: $39.99
The PC Treasures colorful external DVD-ROM drive is perfect for mobile computing — and highly convenient for netbooks that don't have an internal DVD drive already. Plus, the drive is efficient, requiring only USB power to operate!
Slim, lightweight design with a high-gloss finish for style
Reading speed: 24X CD-ROM, 8X DVD-ROM
Smart-X patented technology for optimum data extraction speed
Plug-and-play simplicity with no software to install
Includes a USB cable that stores in the bottom of the drive
Compatible with Microsoft® Windows® XP, Vista, 7, Linux and Mac OS®
Manufacturer's 1-year warranty
Featured in pink
Imported
Mac OS is a registered trademark of Apple Computer, Inc., registered in the U.S. and other countries.
More