Web exclusive! This compact exercise bike is the perfect companion for exercise and rehabilitation, helping you build muscle strength and improving your cardiovascular system.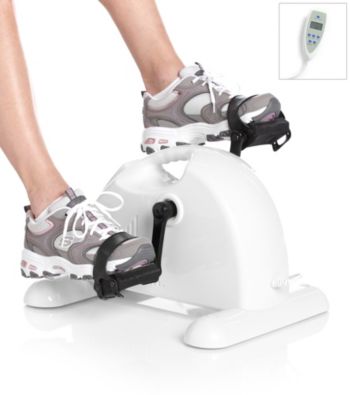 Getting started on an exercise program or coming back from an injury can be daunting, but this powered stationary cycle helps to get you back on track. Beginning at an easy pace and working up to a doubled speed, it increases mobility and flexibility. Swap the foot pedals for hand grips to give your arms a healthful toning workout too. Plus, it's quiet enough to use while watching a favorite TV program or talking on the phone!
Integral computer records time, speed, reps, distance, calories
Automatic programmed setting
Four speeds: 30, 40, 50, 60 rpm
3-minute timer increments starting at 3 minutes and ending at 15 minutes
Alarm sounds if you use an incorrect body posture
Supports both forward and reverse pedaling
Works upper arms, back, legs, hips
Includes corded remote control with LCD display
Power: 120-volt wall outlet plug
12"H x 10"W x 19"D
Model number: YJ1033
Imported
Watch it here!
More